Mei 20 2023
Discover aloe vera, a skin-soothing savior loaded with nutrients.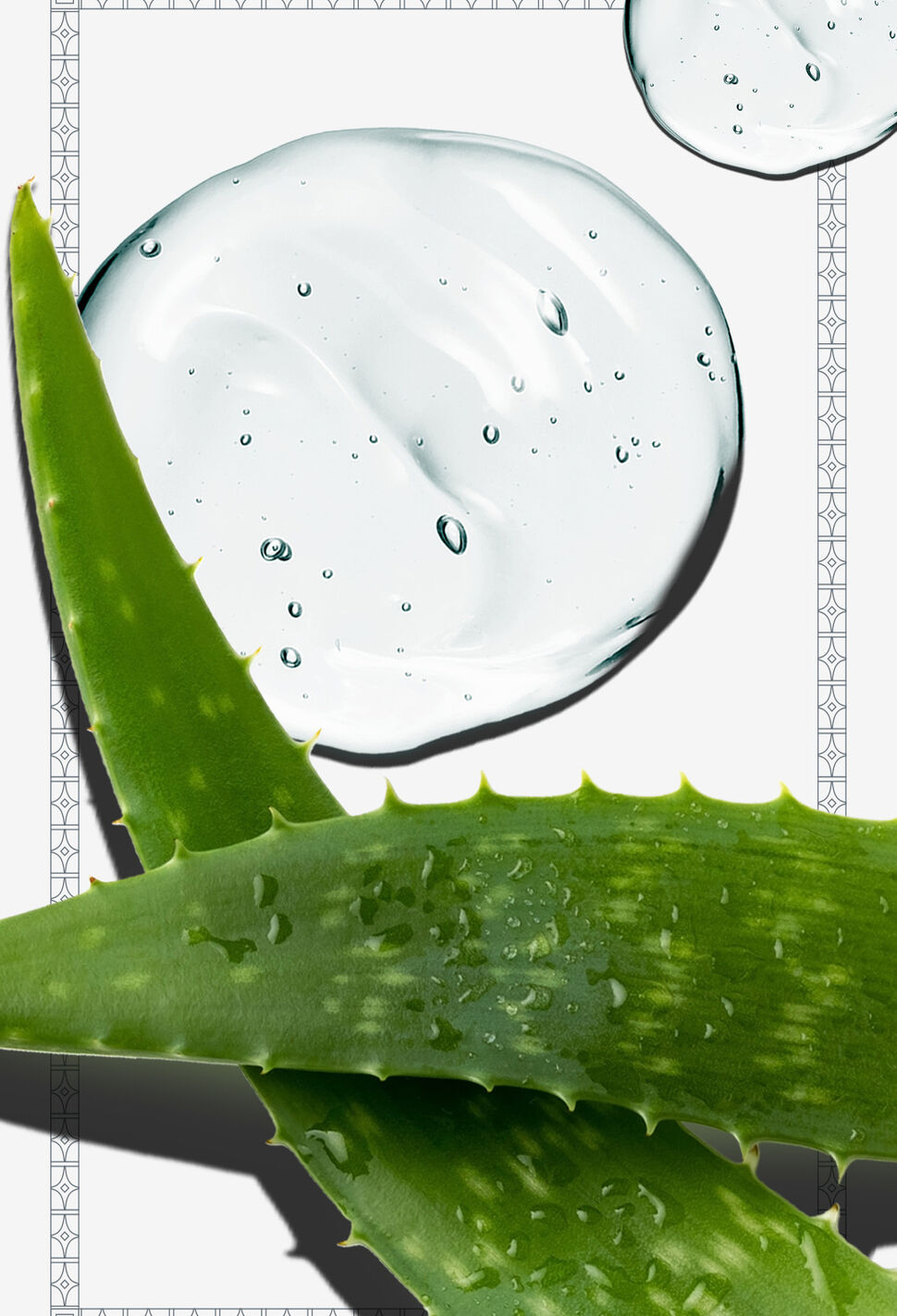 It could be said that aloe vera – the spiky green succulent with leaves that grow in the shape of a rosette – is the original hero skincare ingredient. A timeless cure-all with a surplus of soothing, calming, and hydrating properties, its miraculous nature has been touted by all manner of folks around the world for millennia.
What is aloe vera?
Legend has it that aloe vera was a staple in the beauty regimens of Egyptian pharaohs Nefertiti and Cleopatra and that Aristotle instructed Alexander the Great to apply its goopy gel to help heal wounded soldiers in ancient Greece. In China, India, and Japan, the use of aloe vera in folk medicine dates back 2,000 years. It's also linked to North America. History shows that Native American elders were wise to the sap's anti-inflammatory benefits, applying aloe vera to remedy skin chapped by extreme desert climates and wind.
Today, aloe vera is typically synonymous with sunburn. Many of us have, at one point or another, skimped on adequate SPF protection and found ourselves instinctively reaching for a bottle of it to slather on and cool down our overheated skin. But what if we told you that this age-old ingredient is deserving of a place in your daily skincare routine, year-round and no matter what the weather?
Why should I use aloe vera?
Although primarily made of water (depending on the exact plant varietal, its water content ranges from 99 to 99.5%), aloe vera is a potent source of amino acids, polysaccharides, phytosterols, zinc, potassium, magnesium, as well as vitamin A, vitamin C, vitamin D, and vitamin E. Together, this impressive roster of robust nutrients are able to penetrate the skin's top layers – the epidermis –and work overtime to restore hydration levels, reduce redness, protect against trans-epidermal moisture loss, and instantly calm irritation.
What's more, these healing attributes make aloe vera suitable for most skin types (including dry, sensitive, and combination) and a winning wingman when paired with additional anti-inflammatory ingredients that work to amplify its curative effects.
The best skincare products with aloe vera
Ready to try it for yourself?
Find it combined with extra cooling cucumber extract in Fresh's cult-favorite and super gentle Soy pH-Balanced Hydrating Face Wash. This best-seller comes in three sizes to help you stay fresh on the go. It deeply cleanses pores and removes makeup while softening skin texture, smoothing dry lines, and soothing visible redness.
If you're looking for the best hydrating face mask for a daily skincare treat, opt for our skin barrier-strengthening Rose Face Mask – a luxurious gel treatment that's as useful apres-ski as it is post-beach. Combining a potent blend of hydrating aloe vera, protective damask rose extract, and soothing rosewater, our Rose Mask calms and plumps skin, restoring suppleness and bringing the luscious scent of fresh roses into your skincare routine.
Freshen up your skincare kit
From aloe vera to kombucha to black tea to soy, we draw on the freshest ingredients to create skin-nourishing beauty products for every skin type and concern. Inspired by nature and backed by science, you're guaranteed safe, effective and sensorial skincare when you shop Fresh