Mei 22 2023
The Correct Order to Apply Your Skincare
Level up your skincare routine with this foolproof cheat sheet.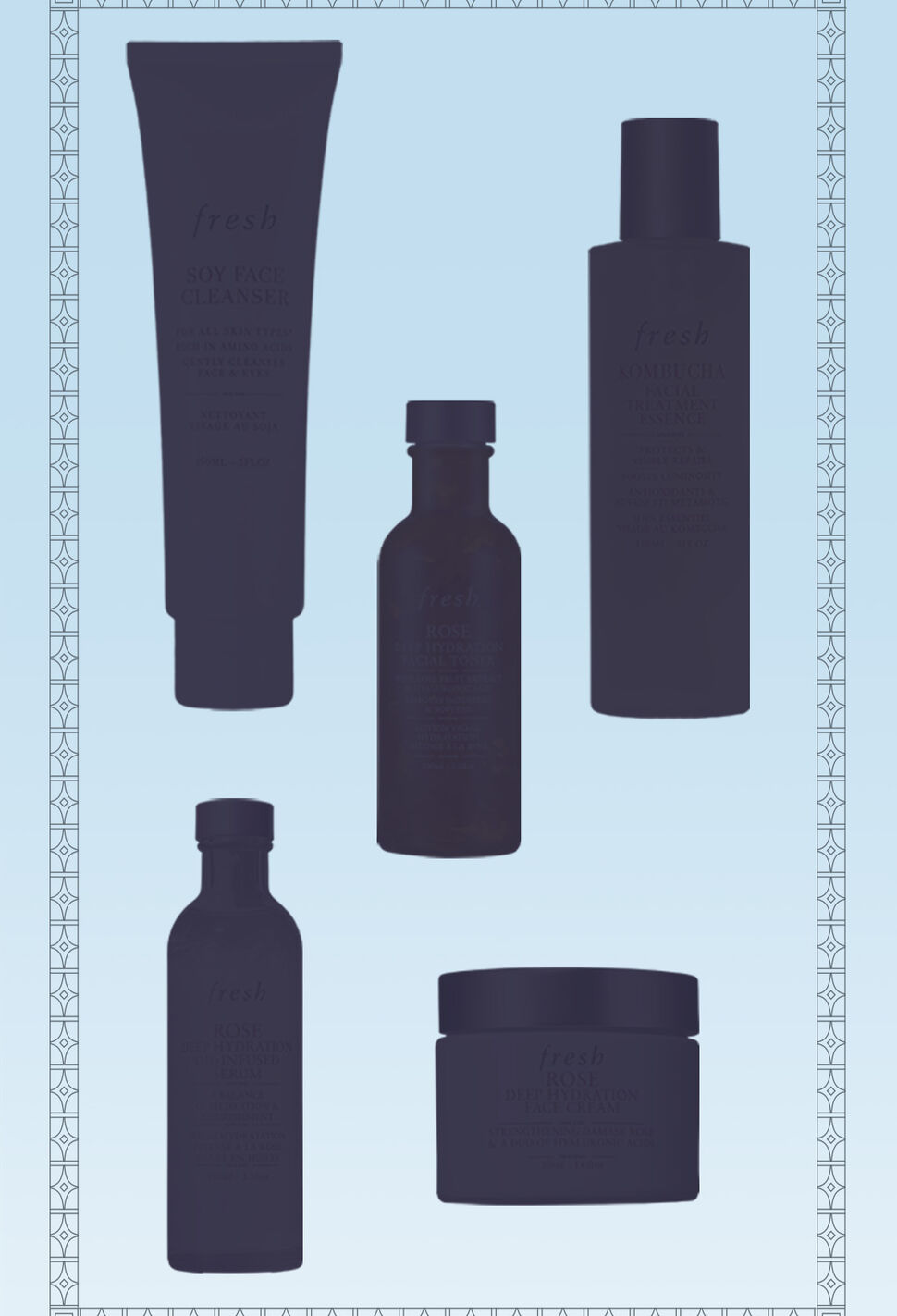 From innovative ingredients to the latest science-backed results, there's a lot to take in when it comes to skincare. At times the noise can, understandably, feel overwhelming.
Read on for the definitive skincare guide to layering your Fresh product picks, no matter how simple or advanced your daily routine.
A clean start
AM or PM, every routine requires a clean canvas to best absorb whatever products come next. So, yes, you do need to cleanse your skin twice a day. In the morning, cleansing serves to balance the skin, removing any excess oil and sebum that may have accumulated overnight. In the evening, it dissolves makeup and unclogs pores blocked by makeup, pollution and dirt. To make things easier, we recommend choosing a cleanser that's pH- balanced and gentle enough to use every day, twice a day – like our Soy pH-Balanced Hydrating Face Wash.
Prep & tone
Finish off your cleansing regimen with a generous swipe of toner. Soak a cotton pad with Rose Deep Hydration Toner and sweep it across your face, neck, and decolletage to clean up any lingering impurities. This step has additional purposes, too: it helps refine pores, strengthens the skin barrier, and enhances suppleness. In the mood to do a mask? Here's where it would go: Mask first, then follow with toner.
Find your essence
Depending on how skin-versed you are, you may or may not be familiar with facial essence. This small but vital step has significant benefits. It repairs pre-existing oxidative damage (think fine lines and wrinkles) while safeguarding your skin against harm from environmental stressors. To apply, shake a few drops into clean palms and press it gently into your skin from your neck up to your forehead, both AM and PM. Our go-to? Kombucha Antioxidant Facial Treatment Essence.
Boost resilience
This step is dedicated to the Tea Elixir Skin Resilience Activating Serum, a seismic product that, like the facial essence, requires its own stage. Deployed together, the two work to seriously boost the skin's bioenergetic systems and strengthen the skin barrier, resulting in skin that is stronger and able to function at its full potential. All sound too good to be true? Read the science and study the before and after photos to see for yourself!
Treat it
Here's a general rule of thumb for choosing your second layer of serum: Think about your skin concerns and goals, and pick a targeted formula to suit. During the day, most skin types will benefit from a brightening vitamin C serum for the face, while moisture-rich formulas are great for protecting against transepidermal moisture loss while you sleep. Experiment and see what works best for you.
Don't forget the eyes
The skin around the eyes is thinner and more delicate than anywhere else on the body, making it prone to fine lines and under-eye wrinkles. That's why your eye area needs special treatment – whatever your age or skin type. Smooth on a small amount of eye cream or serum twice daily to protect this fragile area.
Hydrate, hydrate, hydrate
Your skincare routine is almost complete, and your complexion thanks you! Now seal in the good work with your preferred moisturizer. Lightweight or rich, detoxifying or firming, there's a Fresh moisturizer to suit every need. If it's morning, don't forget to follow this step with sunscreen too.
Seal with a kiss
Lips, like the eyes, are more sensitive and deserving of area-specific formulas – particularly in the colder months. To close out your skincare routine, swipe on a nourishing lip balm at least twice a day, or choose a tinted lip balm to hydrate and brighten. To help prevent chapping, apply a gently exfoliating lip scrub and finish with a leave-on lip mask – like our Sugar Recovery Lip Mask Advanced Therapy – a few times a week.
A fresh routine, everyday
We strive to bring you the best skincare routine by combining potent natural ingredients, ancient rituals, and modern science. Whatever your age, skin type, or concern, you'll find the best products suited to your needs to give you a healthy, radiant glow all year long!