Mei 19 2023
The Hows & Whys of Double Cleansing
Discover how to double-cleanse the fresh way.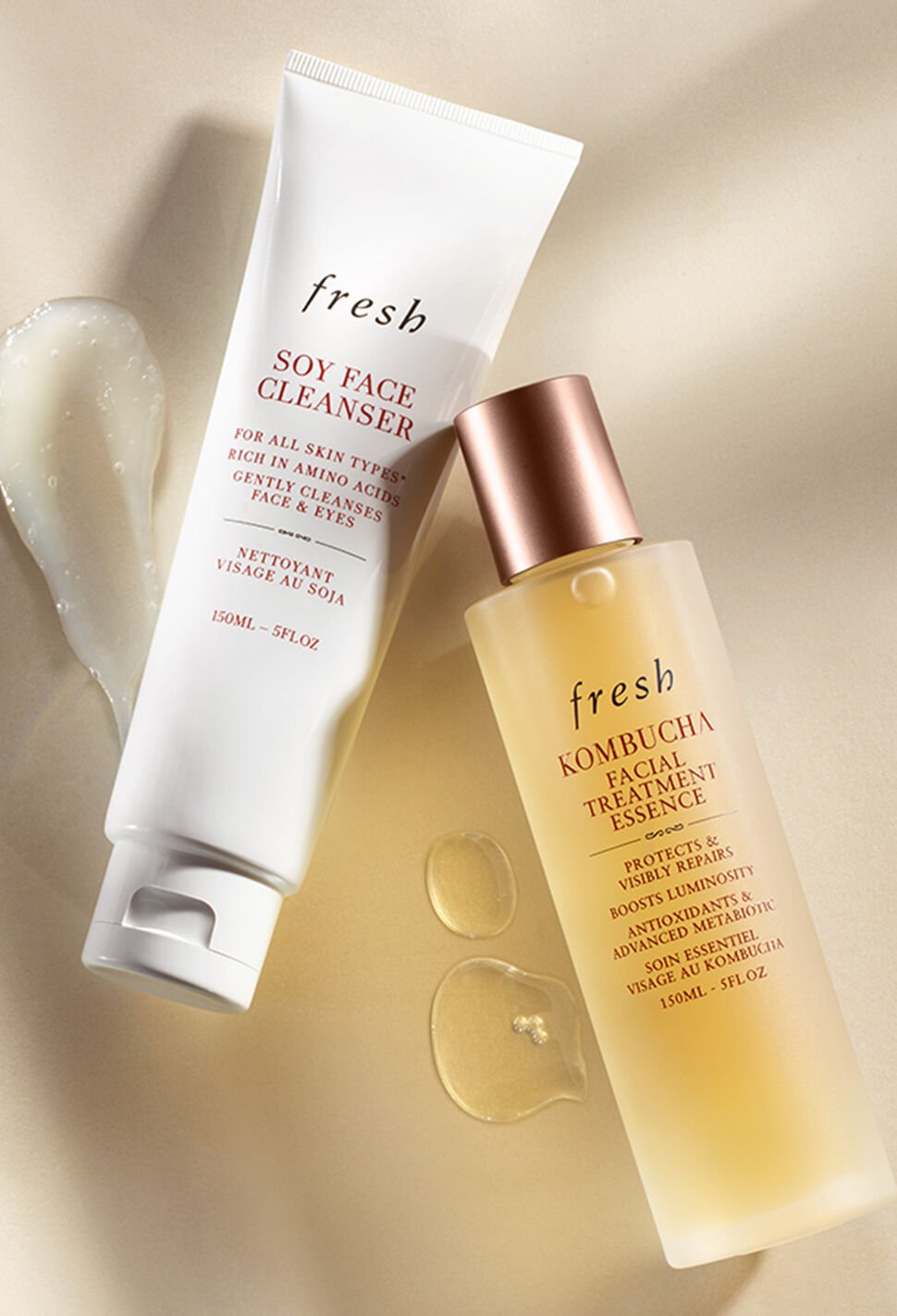 Every effective skincare routine begins with a deep cleanse. Whether you need to wake up or end your day, one cleansing practice goes deeper than the rest. Enter double cleansing.
Double cleansing is exactly what it sounds like — using two different types of facial cleansers to remove makeup, dirt, oil and impurities from the skin. It provides a clean base for the next steps in your skincare routine, ensuring all your targeted skincare products that follow can function optimally.
Is double cleansing for you?
Double cleansing is important because it ensures that the skin is thoroughly cleansed, which is crucial for maintaining healthy, clear skin. However, adding an extra step to an already lengthy skincare routine may not be ideal. If you wear heavy makeup or have trouble with sunscreen residue, this may be an effective method for you. Oily and blemish-prone skin may also find the double-cleanse method helps skin feel clean and refreshed without feeling stripped.
How often should you double-cleanse?
Like all things in skincare, your cleansing routine can be highly personalized and depends on your skin type, concerns and lifestyle. For example, a double-cleanse may be more necessary at the end of the day after wearing a full face of makeup and being exposed to environmental pollutants, but not necessary after a day of lounging at home. It's important to listen to your skin and double-cleanse as needed. We recommend trying a new double-cleanse routine once or twice a week to allow your skin to get acclimated.
First cleanse: Oil-based
The first cleanse is typically an oil-based cleanser. Oil-based cleansers will melt away dirt and makeup, including waterproof products, while maintaining skin moisture. In the first cleanse of a double-cleanse program, it's essential that the skin is cleansed of any impurities without being stripped of moisture. If you have sensitive skin on your face, oil-based cleansers work wonders.
Our Sugar Strawberry Exfoliating Face Scrub provides gentle exfoliation while removing impurities for smooth, soft skin. Grapeseed oil, in combination with strawberry extract, soapberry peel extract and white sugar crystals, refines the look of pores and smooths skin texture. Plus, it's mild enough to be used daily! Apply to damp skin and massage with lukewarm water until the sugar dissolves, then rinse. You can customize your level of exfoliation by using less water for a stronger scrub or more water for a subtle exfoliation.
Second cleanse: Water-based
Once your first cleanse takes away the day, the second cleanse makes use of a water-based face wash to remove any remaining residue from the skin's surface, such as sweat or environmental pollutants. This step also prepares your skin for the rest of your skincare ritual.
For your second cleanse, look no further than our beloved Soy pH-Balanced Hydrating Face Wash. This is our universal face wash proven to maintain the skin's pH level while also cleansing, softening and hydrating. Soy proteins help improve elasticity and smooth skin, while supporting ingredients cucumber extract, aloe vera and borage seed oil help to nourish and soften for cool, calm skin.
Post cleanse
After a double-cleanse, pat Kombucha Antioxidant Facial Treatment Essence into the face, neck and decolletage to prep skin for your serum and moisturizer of choice. This facial essence protects skin and visibly repairs the effects of oxidative stress for smooth, luminous skin.
Looking for more skincare heroes?
While Soy pH-Balanced Hydrating Face Wash is our #1 bestselling cleanser, our collection doesn't stop there. We offer a large variety of naturally inspired, scientifically-backed skincare products to build your personalized skincare routine. From face and body care to fragrances and gift sets, explore the Fresh collection.