Mei 13 2023
2023 Gift Guide: Bridesmaids Gifts
Skincare, body care and lip care gifts that say "I do".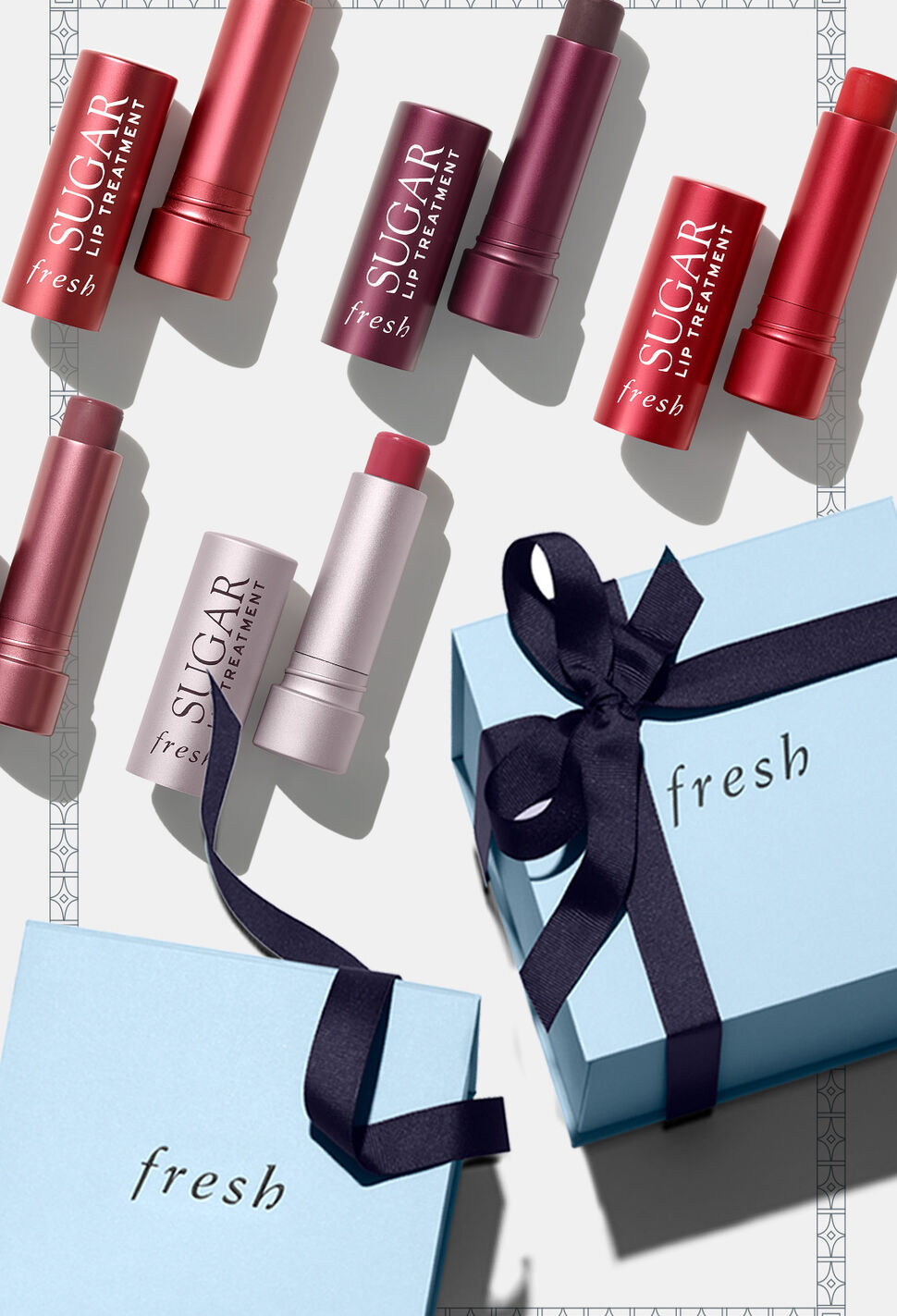 Shower your bridesmaids with love by gifting them a fabulous Fresh find. Say 'Thank you for supporting me on my big day' with a thoughtful gift that shows them how much they mean to you. Whether you want to treat each bridesmaid to the same sensorial set or personalize each gift, we've picked eight products we think they'll love as much as you love your soon-to-be husband!
Treat & Tint Mini Lip Care Gift Set
A perfect lip care set to use on the big day or any other day! Our Treat & Tint Mini Lip Care Gift Set delivers all-day moisture and color. Swipe on Sugar Advanced Therapy Treatment Lip Balm to moisturize extra dry lips for 24 hours and repair the look of damaged lips — it's an essential. Choose between three flavourful tinted lip balms – Sugar Rosé (a rosy pink), Sugar Peony (a soft mauve), or Sugar Papaya (a pink coral) – for 24 hours of hydration and sheer-to-buildable color. Plus, it's perfectly wrapped and ready to give!
Oval Soaps
A luxurious soap for your ladies (and lads)! Our Oval Soaps are milled multiple times, making them super dense, luxurious, and long-lasting. Infused with iconic fresh scents, each soap is hand-wrapped, tied with a delicate wire, and topped with a semi-precious stone — making it the perfect gift. Choose one scent for everyone in your party or pick something different for each bridesmaid. Choose from Citron de Vigne (a sparkling citrus scent), Freesia (a rich white floral scent), Verbena (a bright green citrus scent), Hesperides Grapefruit (a refreshing citrus scent), Waterlily (a sheer aquatic floral scent), Fresh Life (a sensual citrus scent), or Mangosteen (a lush, succulent nectarine scent).
Black Tea Instant Perfecting Mask
You've met your perfect match, now introduce your bridesmaids to theirs. Our Black Tea Instant Perfecting Mask melts onto skin and instantly softens with a cooling sensation (the tingle tells you it's working!) to reveal a luminous complexion. Powered by Fresh's potent black tea complex, skin-smoothing polysaccharides, and moisturizing hyaluronic acid spheres, this ultra-hydrating face mask leaves skin supple, soft, and wedding-day-ready.
Travel-sized Eau de Parfum
Give your favorite people their new favorite fragrance! Our travel-size Eau de Parfum bottles are the easiest, most portable way to enjoy a fresh fragrance. Our sensorial scents are light but long-lasting and can be used alone or mixed and matched – depending on your mood. Choose a collective scent for everyone in your party or pick a fragrance for each bridesmaid. Choose from Hesperides Grapefruit (a refreshing citrus scent) or Fresh Life (a sensual citrus scent).
Soy pH-Balanced Hydrating Face Wash
Give our #1 to your #1s! The Soy pH-Balanced Hydrating Face Wash is our #1 facial cleanser – formulated with soy proteins to deeply cleanse pores and remove makeup while maintaining skin's pH and increasing hydration — even after you rinse. Plus, the non-stripping formula is proven effective on all ages, genders, skin types, and tones. This go-to cleanser is the perfect present for your go-to girls and guys!
Sugar Tinted Lip Balms
Gotta-have balms for your gotta-have girls! Our Sugar Hydrating Tinted Lip Balms are delicious lip treatments that instantly hydrate and lock in moisture for 24 hours with a blend of sugar and emollient oils for a supple, plump-looking pout. Their rich texture and mouth-watering scents coat dry lips, softening and protecting against dehydration all day long (but with no sticky residue!) Choose one flavor for everyone in your party or pick a balm for each bridesmaid. Choose from Mango (a sunny balm), Coconut (a tropical balm), Caramel (a sweet balm), or Watermelon (a juicy balm).
Black Tea Age-Delay Eye Cream
Our Black Tea Age-Delay Eye Cream is a fast-absorbing eye cream light enough to apply under makeup as a hydrating de-puffer, yet nourishing enough to help fight wrinkles. With Fresh's antioxidant black tea complex and noni fruit juice, it works to revive tired eyes and reduce all visible signs of aging for smooth, radiant skin and a bright and youthful look. And who doesn't want that?
Hydrating Skincare Gift Set
Give them roses — they deserve it! Our Hydrating Skincare Gift Set features deeply hydrating essentials to keep your bestie's skin looking its best. Your bridesmaids can start with Soy pH-Balanced Hydrating Face Wash to cleanse their face and remove makeup. Next, they can use our Rose & Hyaluronic Acid Deep Hydration Toner and Rose Deep Hydration Oil-Infused Serum to refine the look of pores and deliver a balance of hydration and nourishment. They can finish their pre-wedding skincare routine with Rose Deep Hydration Moisture for dewy skin plumped with moisture. A hydrating routine is a gift worth giving!
Feel your best with Fresh
From thoughtful bridesmaid's gifts to skincare prep for the big day, find all your must-haves with Fresh. Our range of safe, effective, and sensorial body and skincare products will see you through the special moments and the days in between!
Shop Fresh to enjoy a journey in every jar.