Mei 10 2023
2023 Gift Guide: Zodiac Sign Gifts
Discover the perfect skincare gift for every Zodiac sign.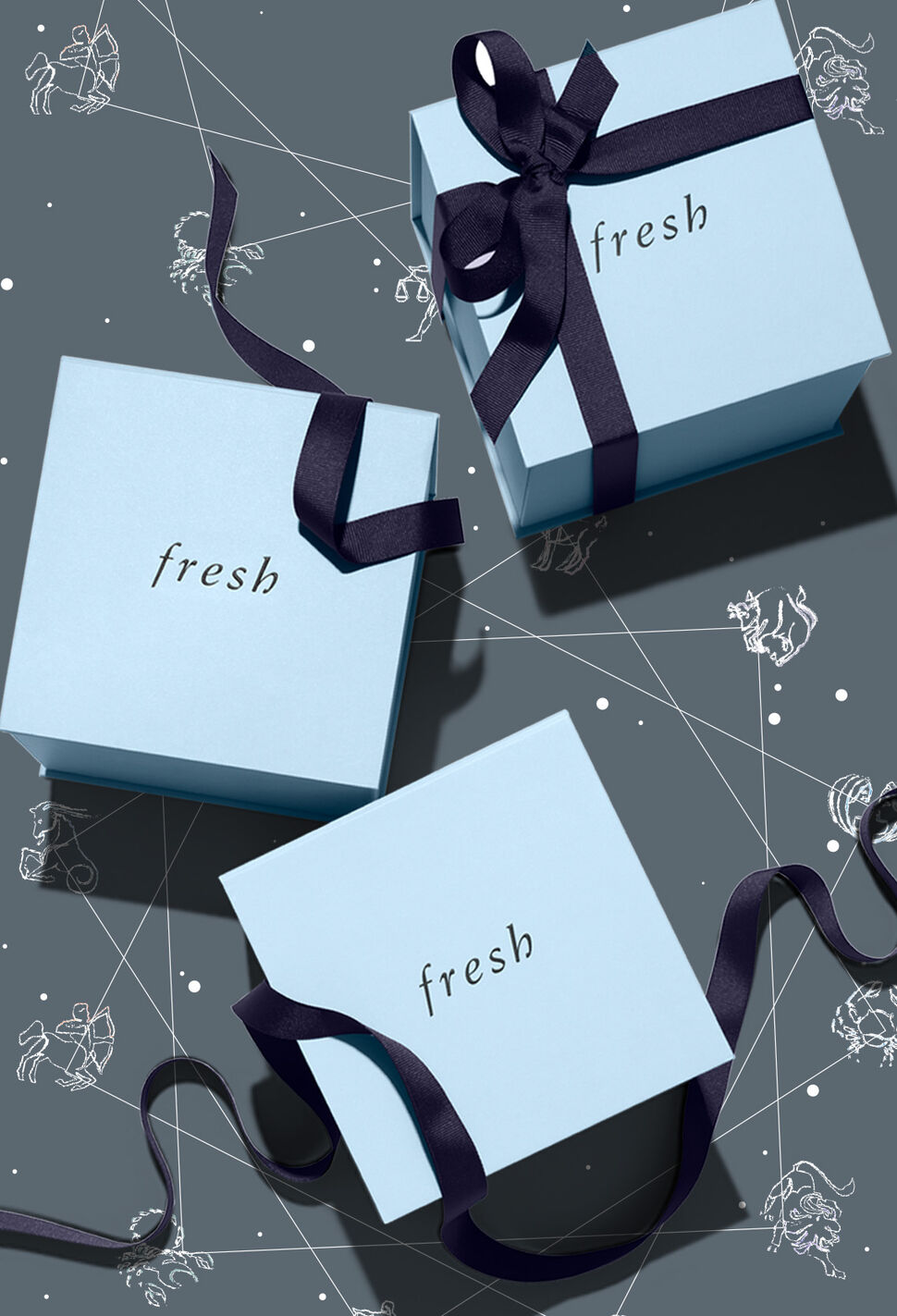 Calling all astrology lovers — your gifting horoscope is in! From energetic Aries to sentimental Pisces, read on to find the perfect gift for every Zodiac sign.
Aries
Cleanse, Hydrate & Firm Skincare Gift Set
The first sign of the Zodiac, Aries are known to be passionate, energetic leaders — making this skincare gift set the perfect gift for the Aries go-getter in your life! Fuel any Aries's day with this five-piece set featuring potent skincare products to smooth and firm, including a mini Soy Face Cleanser, travel Kombucha Essence, mini Black Tea Serum & Eye Cream, and Travel Mask.
Taurus
Floral Recovery Overnight Calming Mask
The grounded lover of comfort and luxury, Taurus is sure to appreciate the gift of a nourishing overnight face mask to complement their favorite stylish sleepwear. Powered by floral extracts, our dermatologist-tested Floral Recovery Calming Mask envelops the skin with calming Passionflower, soothing Squalane, and skin-brightening Vitamin C to reduce signs of sensitivity and help any Taurus feel cozy after a long day.
Gemini
Treat & Tint Mini Lip Care Gift Set
Treat the social, outgoing Gemini to a lip care set that delivers all-day moisture and color. With multiple shades fit for any occasion, they'll be the life of the party. This mini set includes nourishing Sugar Advanced Therapy Treatment, as well as tinted Sugar Lip Treatments in the buildable shades Rosé, Peony, and Papaya.
Cancer
Milk Moisturizing Bodycare Gift Set
As a water sign ruled by the Moon, Cancer is sentimental and nurturing. Gift them a moment of self-care with a nourishing body care set. Perfect for any caring Cancer, this three-piece Milk Bodycare Set includes travel-size Milk Body Wash & Body Lotion and a full-size hand cream featuring our exclusive plant-based milks to cocoon and strengthen the skin.
Leo
Kombucha Antioxidant Facial Treatment Essence
The golden liquid of this Kombucha Essence is sure to delight any Leo while prepping their skin for a day of brilliant leadership. Our newly-upgraded formula protects and visibly repairs skin from the effects of oxidative stress with double-fermented kombucha and an advanced metabiotic — delivering smooth, luminous skin.
Virgo
Give the organized, accomplished Virgo the gift of a full skincare routine with this Hydrating Skincare Gift Set. With mini Soy Face Cleanser, travel-sized Rose Toner, mini Rose Oil-Infused Serum, and full-size Rose Face Cream, any Virgo is sure to appreciate these on-the-go deep hydration essentials!
Libra
For Libra — a balanced, fascinating romantic — the alluring scent of Rose Morning Eau de Parfum is sure to delight. This velvety floral scent will complement any Libra's enchanting personality with notes of Bulgarian Rose, Peach Blossom, and Musk.
Scorpio
Hydrate, Perfect & Firm Mask Gift Set
Spoil your sensual Scorpio with a luxe gift set featuring best-selling day and night perfecting masks. Indulge their intuitive skincare cravings with this travel mask trio — which includes Rose Face Mask, Black Tea Perfecting Mask, and Black Tea Overnight Mask — to leave their skin looking firm, hydrated, and smooth.
Sagittarius
Fuel this optimistic and independent fire sign with a vibrancy-boosting face mask like Vitamin Nectar. This skin-nourishing mask is jam-packed with fruit and powered by natural AHAs to brighten and exfoliate, helping any Sagittarius face their day with healthy-looking, refined, and energized skin.
Capricorn
Logic-loving Capricorn is sure to appreciate the Radiant Skincare Gift Set featuring day and night essentials for around-the-clock radiance. Featuring mini Soy Face Wash, exclusive-size Lotus Face Cream, and full-size Lotus Dream Cream, this practical trio will help reveal Capricorn's clean, radiant glow.
Aquarius
Hesperides Grapefruit Eau de Parfum
For this curious free spirit, clear their ever-thinking mind with the citrus scent of Hesperides Grapefruit Eau de Parfum. The perfect foundation for any Aquarius's refreshing complexity, this EDP is great to layer with their favorite fragrance, energizing with notes of Grapefruit, Italian Lemon, and Rhubarb. We recommend pairing with Sugar Lemon for an uplifting, elegant scent.
Pisces
Give this water sign the gift of instant hydration with Rose Face Mask. With real rose petals — an added touch of romance and efficacy sure to be loved by Pisces — this silky gel mask drenches skin with Damask Rose extract and Hyaluronic Acid to improve hydration for smooth, supple skin.
A fresh face, every day
Know their Fresh favorites and want to bundle them all in a one-of-a-kind set? Build Your Own Set of up to four products and wrap it with a personal message in our classic blue box — available online or in our fresh boutiques! Or gift even the pickiest of Zodiac signs an eGift Card, sent right to their inbox.