Jul 27 2022
Skincare Routine to Combat Lifestyle Stressors
Discover how to cleanse, protect, and treat your skin with fresh's treatment trio powered by our breakthrough Tea Elixir Serum.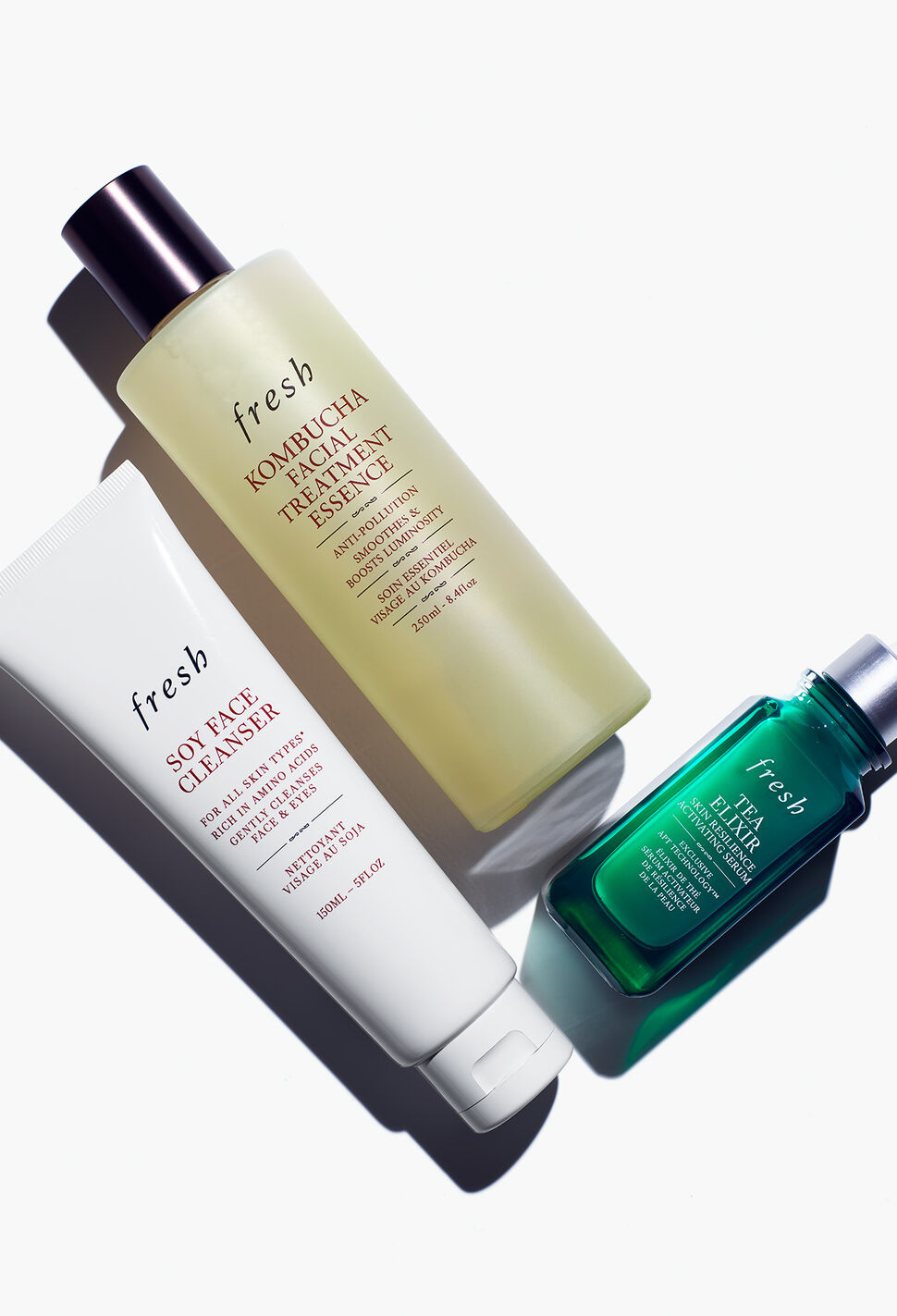 Be honest . . . do you feel the same existential dread around the word "routine" that we do?
At the heart of any healthy routine is the earnest effort to better our lives by creating a system to alleviate stress and free up some much-needed time and energy. A routine can incorporate any number of things from starting your mornings at a specific hour (ugh), to scheduling weekly yoga sessions with your bestie (yay), to planning your daily work tasks (meh).
When it comes to a routine for the skin, we consider ourselves to be experts at producing the perfect fuss-free (and hopefully fun!) guide suitable for a wide range of skin types and concerns. One product we're incorporating into our daily skincare routine these days is the all-new Tea Elixir Serum. Designed to combat everyday life stressors, this serum tackles the skin toll taken by a lack of sleep, poor diet, seasonal changes, and limited physical activity—which are collectively responsible for up to 90% of the visible signs of aging.
Here, get the step-by-step skincare routine that we use to combat everyday lifestyle stressors.
Step 1: Cleanse with Soy pH-Balanced Hydrating Face Wash
It's our #1 hydrating face wash for a reason! This non-stripping formula contains soy proteins that work to deeply cleanse pores and remove makeup (yes, even mascara) while maintaining skin's pH and increasing hydration by 10%.* To use, simply wet skin, massage over the face and eyes, then rinse.
Step 2: Protect with Kombucha Antioxidant Facial Treatment Essence
Safeguard your complexion from the effects of blue light with this best-selling treatment essence, featuring antioxidant kombucha and hyaluronic acid, which increases luminosity while simultaneously decreasing the look of pores and fine lines. To use, gently pat the essence over cleansed face and neck with your palms daily to prep skin for your next skincare steps.
Step 3: Treat with Tea Elixir Serum
Discover our new universal serum—powered by exclusive APT Technology™, hyaluronic acid, and ceramide—that boosts skin's visible glow and resilience to everyday life stressors for smoother texture, restored bounce, and reduced look of wrinkles. To use, dispense a few drops onto palms and press into skin to activate the serum. Apply to the face and neck daily, morning and night.
Intrigued? Want to create your own skincare routine? We've got you covered! Explore our Tea Elixir-inspired treatment trio today—along with other best-selling routines—to give your skin the care it craves.
*instrumental test, 11 subjects