Jul 15 2022
A Face Serum for Resilient Skin
How to combat skin stressors.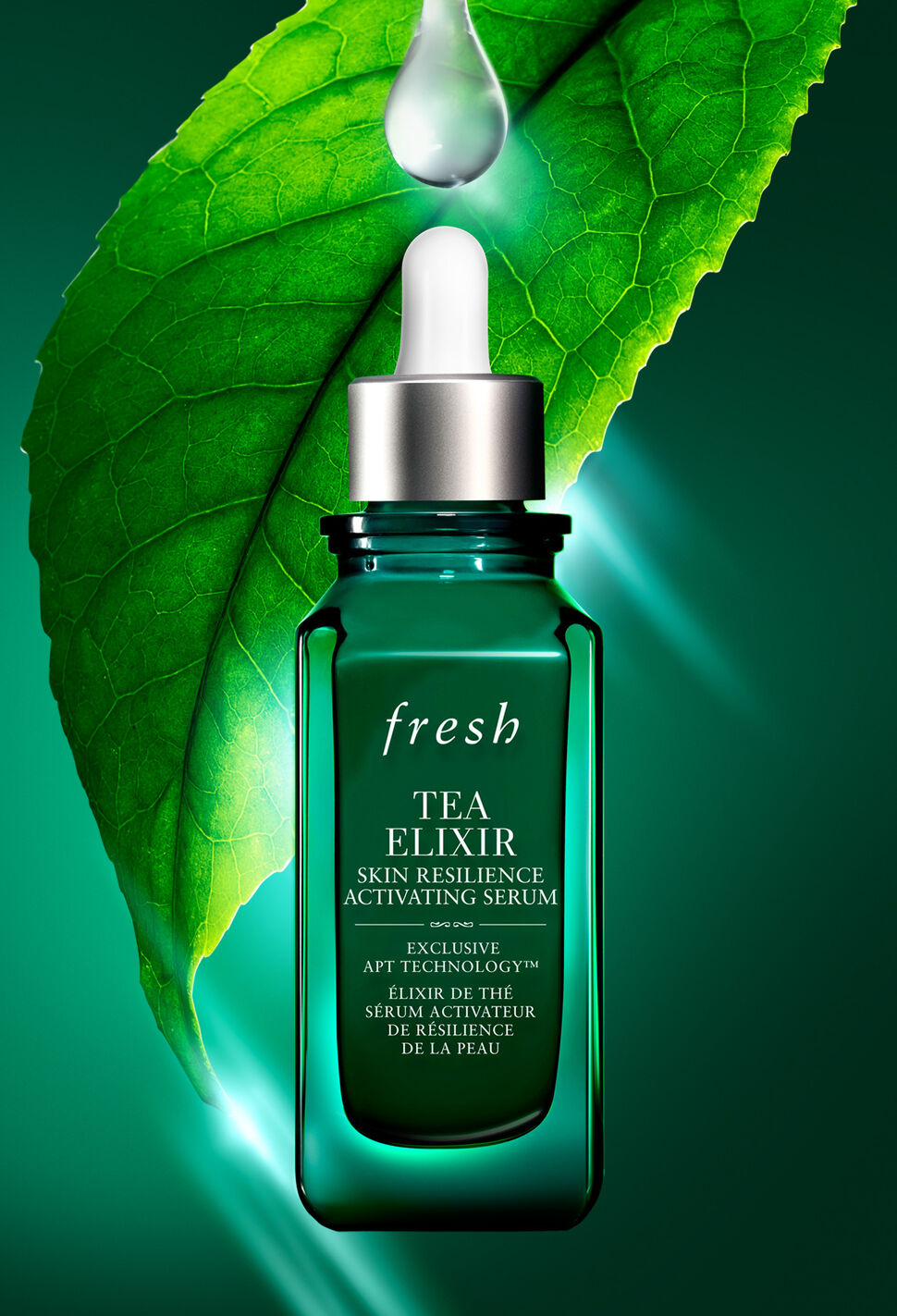 Life can get the best of your skin. We experience life stressors on the daily, whether it be from the seasons changing, stress in our personal lives, a lack of sleep, or an off-center diet. Life stressors are a universal problem and are responsible for up to 90% of visible signs of aging. Sometimes it needs a little help to function at its full potential.
Enter fresh's latest innovation in skincare: Tea Elixir Skin Resilience Activating Serum. After 15 years of extensive research into the benefits of tea on the skin, we're proud to present our breakthrough face serum with exclusive APT Technology™ for bouncy, smooth, and visibly glowing skin. Proven effective on all skin tones and types—including sensitive skin—fresh's Tea Elixir Serum boosts skin's visible resilience by +62%,* allowing it to function at its full potential.
The proof is in the elixir! Read on to discover how our scientists at the fresh Research Lab harnessed the adaptive properties of a tea plant from Mauritius island to create this revolutionary serum--proven to combat dullness, dryness, and visible fine lines and pores.
Our hero ingredient's journey
By combining the power of potent natural ingredients with modern science, we strive to create an experience that also delivers results. We call it "a journey in every jar." Our hero ingredient in Tea Elixir Serum begins its journey on the small island of Mauritius, known as the "pearl of the Indian Ocean." Here, a unique tea plant faces adverse growing conditions: volcanic soil, a tropical climate, and low altitude. Nevertheless, the Mauritius tea plant has found a way to not only survive, but also thrive. By adapting its genetic expression over the last 130 years, this tea plant has succeeded in developing resilient phytocompounds—such as polyphenols and citrate—necessary to grow on the island, despite its harsh environment.
Using a patented extraction process, our skin scientists at the fresh Research Lab have harnessed the adaptive nature of the Mauritius tea plant to power a serum that boosts the skin's resistance to life stressors in its own environment—including seasonal changes, lack of sleep, and stress. From the Bois Cheri farm on Mauritius island where the tea plant grows to the powerful and milky emulsion in our green serum bottle, our hero ingredient's journey is one of resilience.
APT Technology™: our exclusive innovation
Our exclusive Adaptive Phytocompound Tea (APT) Technology™ is created by capturing the Mauritius tea plant's adaptive phytocompounds. Informed by 30+ years of plant genetics research, this cutting-edge extraction process leads us to APT Technology™, an ingredient 2.65x more concentrated in adaptive phytocompounds** than ordinary tea. Combined with four more powerful skincare ingredients—niacinamide, 5kDA hyaluronic acid, ceramide III, and ocean kelp—APT Technology™ works with the skin's natural function in two ways: citrate boosts the skin's bioenergetic systems for a stronger skin barrier, and polyphenols deliver antioxidant protection from free radical damage for smoother skin texture and minimized lines. As a result, Tea Elixir Serum is scientifically proven to boost skin's visible resilience and resistance to life stressors for smooth, glowing skin with more bounce.
How to use
Looking to boost your skin's resilience? With Tea Elixir Skin Resilience Activating Serum, enjoy the benefits of -41%*** reduced look of lines and wrinkles, +58%*** more bounce, and +75%*** smoother texture and visible glow. Apply to the face and neck daily—morning and night—after cleansing with Soy Face Cleanser and treating with Kombucha Essence.