Agu 22 2023
Deepen your cleansing and hydration with emulsions and toners.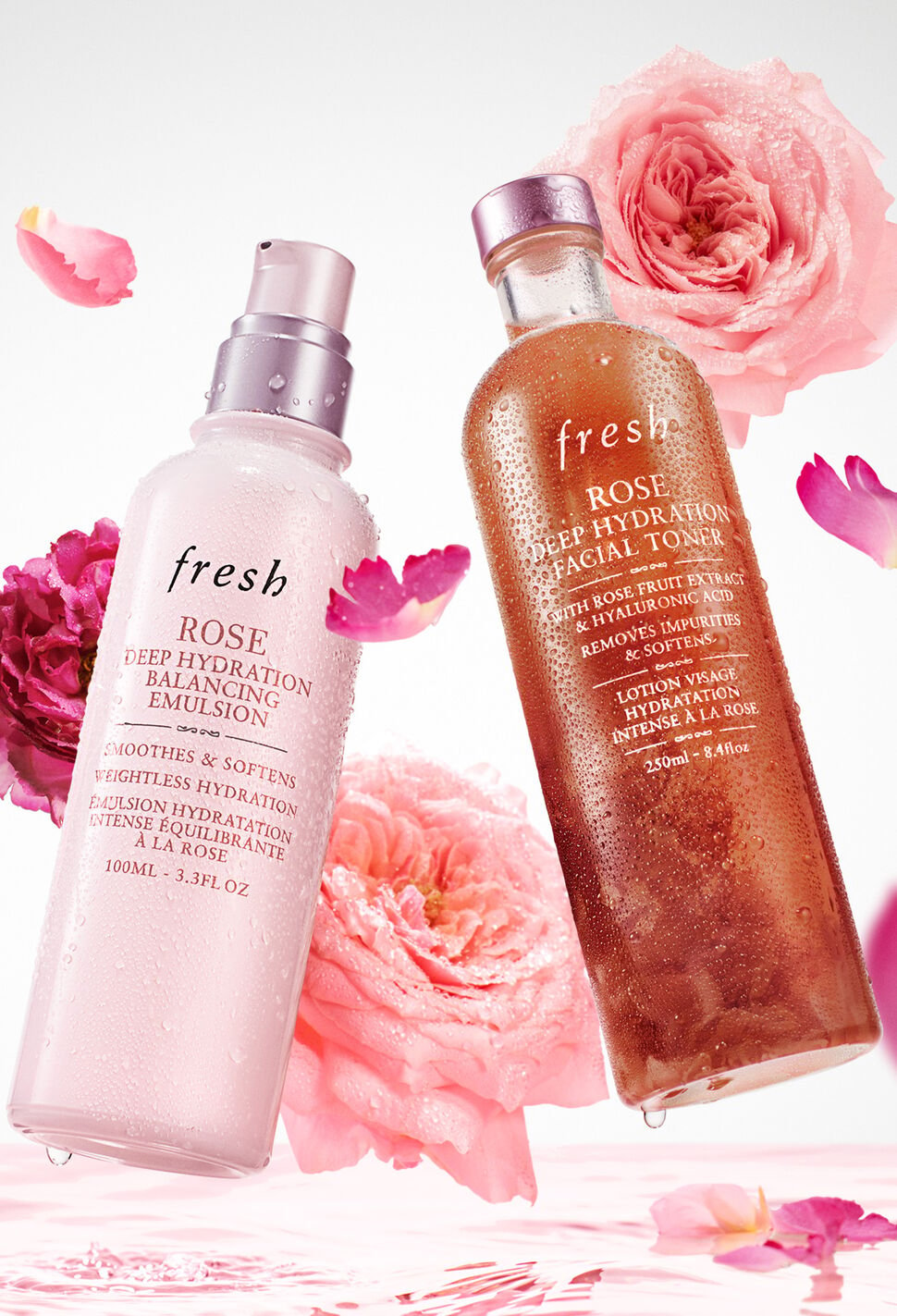 It's 2023, and people are more clued up on skincare than ever before. From TikTok trends to Instagram influencers, beautiful skin is the new black, and we're willing to use whatever we must to achieve it. At fresh, we go beyond current trends to bring you natural skincare that's backed by science. Two of our favorites—emulsions and toners—have earned their place in our bag of essentials. But which is best for your skin type? And do you need both… or either? Read on to find out.
What is emulsion in skincare
Emulsions are a popular type of skincare product that consist of a combination of oil and water, giving them a luxurious milky texture. Emulsions are commonly used as moisturizers and are often lightweight in texture, making them perfect for those with oily or combination skin. They can be used in both morning and evening skincare routines to hydrate and protect the skin and are also great for layering with other skincare products, as they can boost the absorption of the products applied afterward.
Emulsion skincare products work by creating a barrier on the skin, preventing moisture loss, and locking in hydration. They are highly effective at improving the texture and appearance of the skin, as they provide a softening and smoothing effect.
What is facial toner?
A face toner is considered part of your cleansing routine—typically used straight after facial cleanser and before applying serums, emulsions, moisturizers, or products with SPF. They're designed to remove any remaining impurities, balance skin's pH level, and restore hydration. Toning formulas usually come in liquid or mist form and are swiped across the face using a cotton pad or sprayed directly onto the skin and pressed in.
Toners are known for their ability to shrink pores and improve the appearance of skin texture. They can also assist in removing excess oil and dead skin cells, leaving the skin feeling refreshed and revitalized. In addition, some toners contain skin-targeting ingredients, so you can find a formula that works specifically for your skin type or concern.
An important thing to note is that not all toners are created equal. Alcohol-based toners have a bad rep for being quite harsh and stripping the skin of its natural oils, which typically leads to dryness and irritation. As such, it's important to choose a toner that is appropriate for your skin type and that contains gentle, nourishing ingredients.
How to choose the right product for your skin
In short, emulsions are designed to hydrate your skin, while toners are known to cleanse and balance your skin. The good thing? There's space for both in your skincare routine, and you can pick and choose your products based on your specific needs.
Everyone can benefit from the use of a good toner for the face, but those with oily or acne-prone skin, as well as people who wear makeup regularly, will find it especially effective. With triple rose power—toning rose fruit extract, strengthening damask rose extract, and nourishing rose oil—Rose & Hyaluronic Acid Deep Hydration Toner cleanses the skin of impurities and refines pores for a smooth, even complexion. For a focus on skin conditioning, reach for Crème Ancienne Infusion—a purifying treatment toner that smoothes skin texture leaving it soft, supple and hydrated.
For a deeply hydrated, dewy complexion that looks and feels soft and plump, add Rose & Hyaluronic Acid Deep Hydration Emulsion to your daily routine. The silky soft formula offers a weightless finish, making it ideal to use both alone and in conjunction with a nourishing moisturizer. Designed to balance the skin's oil-water hydration levels, this potent emulsion helps even texture while reducing the appearance of pores and visibly softening fine lines.
Get a natural glow with fresh
Not sure if your current products are working for you? Upgrade your ritual with the help of a fresh Beauty Advisor. Book a session to get tailored skincare recommendations and have all your skincare questions answered. Alternatively, get advice from our curated stories by beauty experts.