Treatment Trio Skincare Set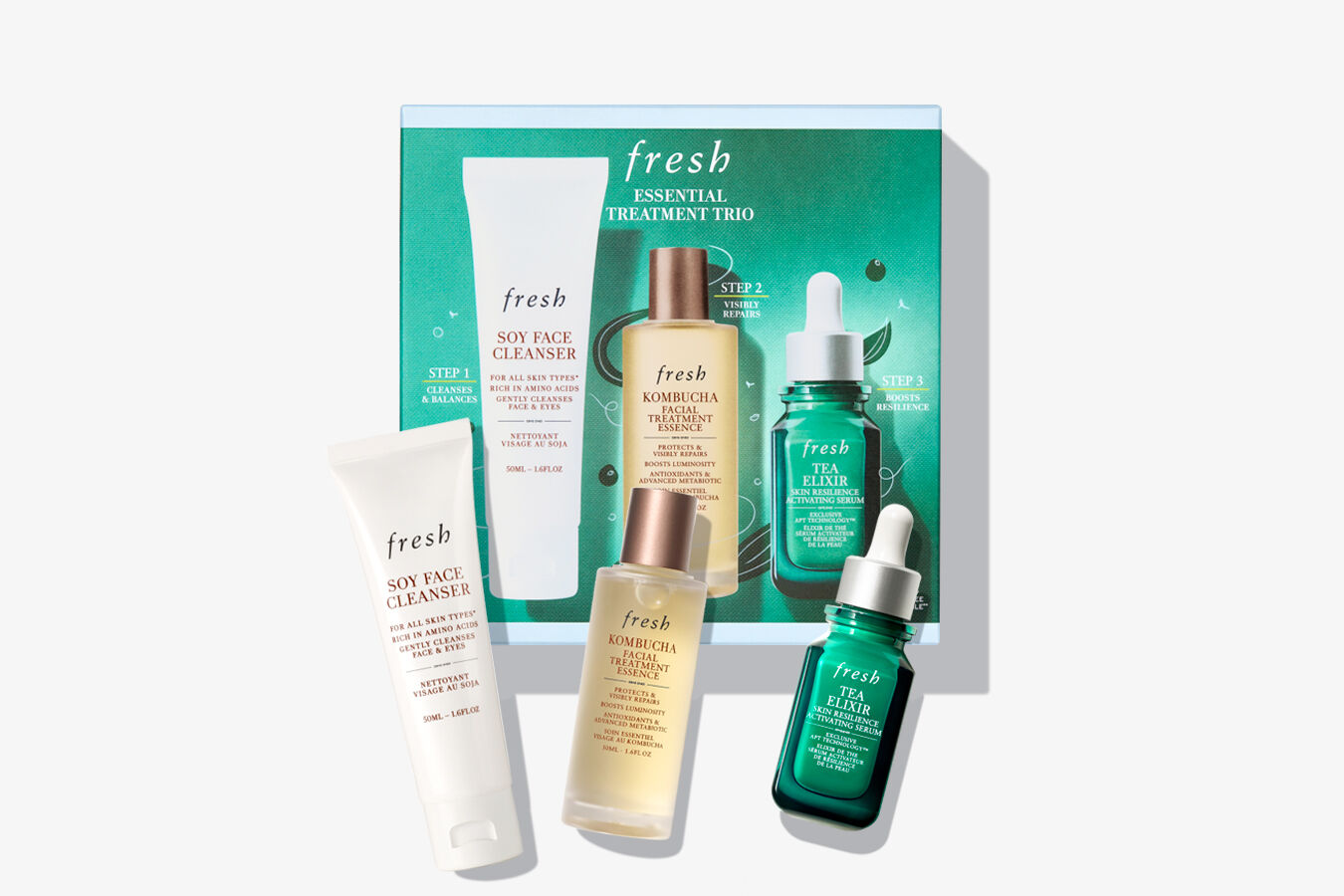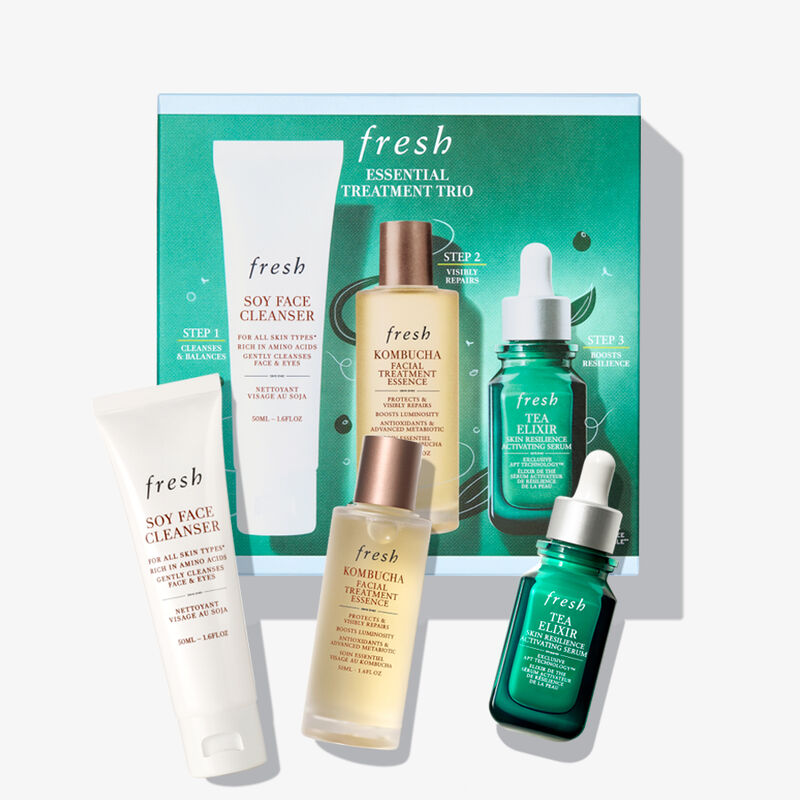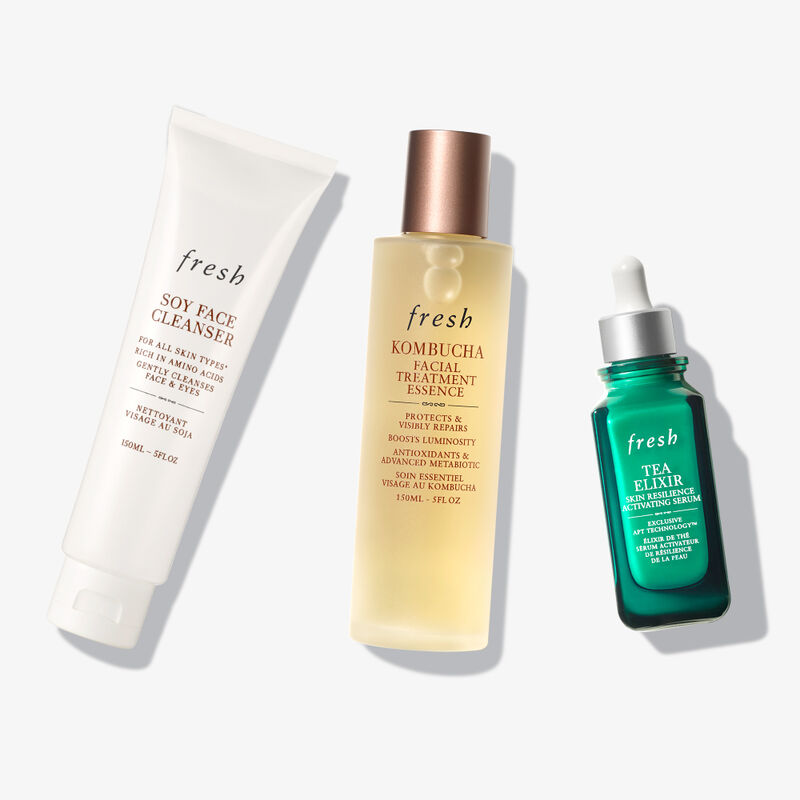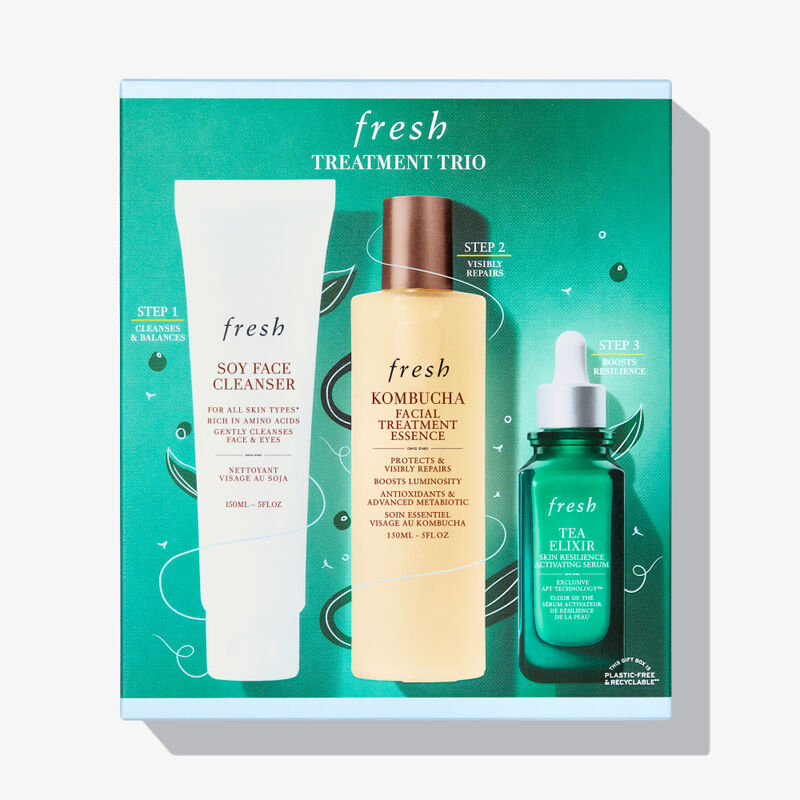 Treatment Trio Skincare Set
Find a retailer near you
Reveal luminous, resilient results with this 3-piece skincare set that includes Soy Face Wash, Kombucha Essence, and Tea Elixir Serum in travel sizes.
This clinically proven treatment trio delivers luminous, resilient skin. Start with pH-balanced Soy Face Cleanser to gently cleanse & remove makeup. Then pat on Kombucha Essence to protect & visibly repair. Finish with Tea Elixir Serum to resist & diminish signs of aging for smooth, glowing skin.
1.60floz/ 50ml Soy pH-Balanced Hydrating Face Wash
1.60floz/ 50ml Kombucha Antioxidant Facial Treatment Essence
1floz/ 30ml Tea Elixir Skin Resilience Activating Serum
Soy pH-Balanced Hydrating Face Wash

Aloe vera gel helps to immediately calm and cool the complexion.
Borage seed oil helps to nourish and soften.
Cucumber extract helps to cool, calm, and soothe the skin.
Soy proteins are rich in amino acid hydroxyproline and known to improve elasticity and smooth skin to promote a healthy-looking complexion. Our soy proteins are upcycled, meaning they are repurposed from the food industry.
Kombucha Antioxidant Facial Treatment Essence

Advanced metabiotic is an active ingredient technology that supports skin's enzymes to help visibly repair from the effects of oxidative stress for 24 hours*.
*in vitro tests
Artemisia flower extract improves skin homogeneity to help deliver a more luminous, even complexion.
Kombucha is fermented black tea rich in antioxidants that helps to smooth skin, increase luminosity, and deliver 24-hour protection* against the effects of environmental stressors such as pollution and blue light—which can lead to dullness, dryness, uneven skin tone, and the look of premature lines.
*ex vivo tests
Hyaluronic acid helps attract and maintain moisture to enhance suppleness for soft, smooth, plump-looking skin.
Tea Elixir Skin Resilience Activating Serum 30ml

Niacinamide is an essential nutrient derived from vitamin B3 that helps to support the skin's barrier function while maintaining a healthy look.
5kDA hyaluronic acid works to deeply hydrate and minimize the look of lines & wrinkles
Ceramide III to help strengthen the skin's moisture barrier & prevent dehydrated skin
Adaptive Phytocompound Tea (APT) Technology™ to increase skin's bioenergetic systems and antioxidant protection
Soy pH-Balanced Hydrating Face Wash
Wet skin, and massage over face and eyes, then rinse.
Kombucha Antioxidant Facial Treatment Essence
Pour five shakes into your palm and gently pat over cleansed face, neck, and decolletage. Use daily both morning and night to prep skin for your serum and moisturizer.
Tea Elixir Skin Resilience Activating Serum 30ml
Dispense a few drops onto palm of hand and press onto skin to activate serum. Apply to the face and neck daily, morning and night, after cleansing with Soy Face Cleanser and treating with Kombucha Essence.