true
true

Latest
The Summer Beauty Travel Guide
Everything you need for the perfect summer getaway.
..
It's official, summer is well and truly upon us and to help you get the best out of your skin on every kind of trip, we've put together an essential summer beauty travel guide. Even if you're having a #staycation, read on, because there's something for you in here too…

Make it a Mini

As much as we all love heavy-duty, boujee packaging; when it comes to travel, no one wants to lug around a boulder at the bottom of their travel bag. We want our bags to be as light as a feather—although, we accept that our understanding of light might be entirely different to yours *wince*. That said, just because both weight and size might be an issue (what with that pesky in-flight 100ml liquid limit), doesn't mean your skin has to suffer too. Minis make for the perfect travel-sized companions and once you've established what you consider an 'essential' you can start to build out your own full-proof travel-friendly routine. Our rose minis take you from tone all the way through to moisturise, just add in a Soy Face Cleanser to cleanse.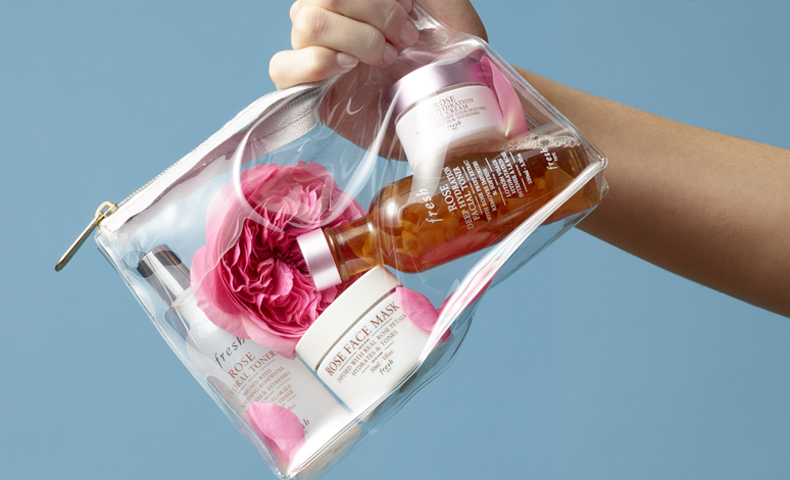 Multi-Tasking Heroes

Gimmick or not (we say not) multi-purpose products not only save crucial real-estate in your beauty bag but also work to widen your horizons when it comes to some of your faves. For example, Black Tea Kombucha Facial Treatment Essence is known to help provide both pollution and anti-oxidant protection. However, it also helps to smooth skin, increase luminosity, provide 24-hour moisture and reduce the appearance of fine lines and wrinkles (and now comes in a handy 50ml!). If you're obsessed with Vitamin C, Vitamin Nectar Vitamin C Glow Powder not only refines skins texture with our vitamin fruit complex supercharged with 20% Vitamin C but also imparts dull skin with a vibrant, healthy glow. Plus, one box contains 12 travel-friendly sachets so you can just grab as many as you need and go!

Make Time for Masking

Masking may not seem like a holiday skin-care essential, but with everything from the change in climate, to post-flight dehydration, and peeling from spending too much time in the sun, masking is the quickest and most effective way you can see instant results. Infused with a blend of rosewater, cucumber extra and aloe vera gel, our Rose Face Mask's gel-like formula gently soothes and calms the skin making it ideal for a post-sun cool down. That said, if you're less concerned about sun burn, our Black Tea Instant Perfecting Mask mini melts into the skin to reveal a softer, more luminous looking complexion—perfect for post-flight dehydration!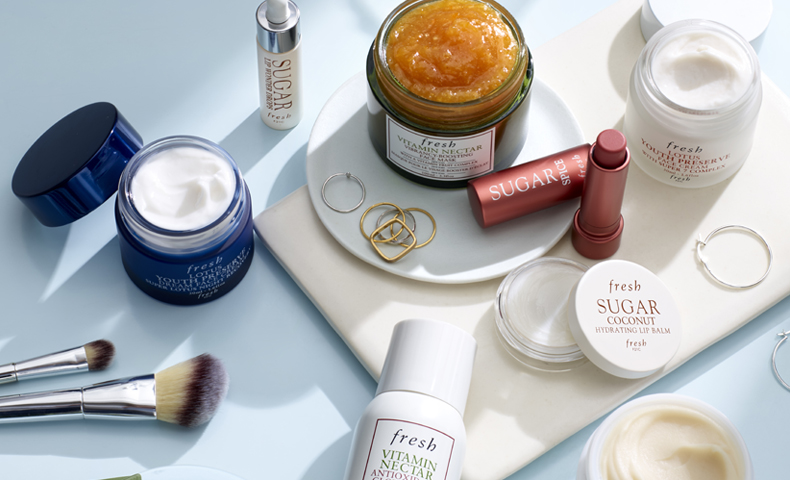 In-Flight Spritz

Whether you're on the plane, on the beach or even soaking up the sun in in your back garden, a revitalising spritz from a facial mist does wonders to cool and instantly hydrate the skin. A summer essential, mists are ideal for a midday refresh and their pleasant aromas—try our citrus scented Vitamin Nectar Antioxidant Face Mist or rose-infused Rose Floral Toner—add a mood enhancing quality too. Simply spray directly onto the face with your eyes closed for the ultimate refreshing experience.

SPF & Tint

An often forgotten step in any summer beauty routine, lips are frequently left out in the cold. Regularly left both dehydrated and lacking protection, the sun does little for our pout and many would rather forego SPF in favour of a pop of colour. Yet, this tricky trade off doesn't have to be to the detriment of your skin. Sugar Lip Treatment Sunscreen SPF 15 comes in a variety of shades that not only take you from day to night but moisturise, protect and smooth unwanted texture.
Shop the post